Arania wins EcoVadis silver medal for sustainability achievements
Arania reaffirms its commitment to sustainable practices by obtaining the EcoVadis silver medal. The EcoVadis platform awards this distinguished rating, which provides external validation and recognition of Arania's sustainable practices. The exhaustive evaluation covers a wide range of categories, including environment, labor practices and human rights, business ethics and supply chain: Key areas for companies seeking to excel in sustainability and establish themselves as leaders in an increasingly environmentally conscious business world.
We live in a socioeconomic context that is increasingly becoming aware of the importance of sustainability and corporate responsibility. Thus, the implementation and formalization of sustainable practices is essential to generate value, both for stakeholders and for society as a whole. Currently, most industrial companies, in a broad range of sectors, are keen to demonstrate their commitment to ethical and environmentally responsible business practices.
EcoVadis has the objective of improving the environmental and social practices of companies by utilizing the influence of global supply chains, being particularly significant in sectors such as automotive, distribution and finance. To achieve this, it manages a collaborative platform that provides sustainability ratings on how suppliers integrate corporate social responsibility principles into their business practices and collects evaluation sheets with scores between zero and 100, and three levels of medals (bronze, silver and gold).
We are a benchmark in the laminate industry
With the successful implementation of automation, we at Arania have positioned ourselves as a leader in the laminated steel sector in Southern Europe. Our ability to adapt to technological advances and continuously improve our operations differentiates us.
Our pioneering vision and commitment to innovation have given us flexibility in the changing demands of the marketplace. Meanwhile, we improve quality and customer satisfaction.
BeDigital is a key event in the steel sector and has provided us with a very valuable opportunity to stand out. It has become a benchmark in the industry, introducing the latest technological advances and success stories in the digitization of production.
Our participation in this congress has allowed us to exchange ideas and generate new opportunities for collaboration with other professionals, researchers and leading companies in the sector.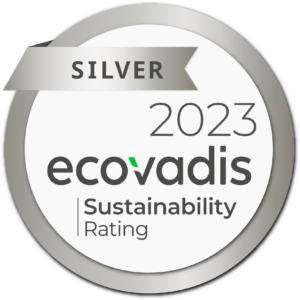 What is the EcoVadis Medal?
EcoVadis offers a full corporate sustainability rating service based on international standards such as the Global Reporting Initiative, the United Nations Global Pact and ISO 26000. With the EcoVadis silver medal, Arania demonstrates its commitment and transparency in terms of sustainable practices, reinforcing the trust of customers, investors and other stakeholders.
Its assessment includes an analysis of 21 indicators grouped into 4 thematic groups: environmental impacts, work practices and human rights, ethics and sustainable procurement. Each company is evaluated on the material aspects corresponding to its size, location and sector.
In addition to validating sustainable practices, the EcoVadis medal offers a number of benefits, such as differentiation in the marketplace, improved supply chain management and identification of opportunities for improvement. In this article, we explore some of the benefits of Ecovadis certification and how it can help companies make a positive impact.
What advantges provides EcoVadis medal?
By focusing on sustainability, Arania can differentiate itself from its competitors and attract customers who are looking to support socially and environmentally responsible projects. In addition, some investor organisations, such as large corporations and government entities, make EcoVadis certification a requirement for doing business, turning this silver medal into an opportunity to access new markets and customers.
However, EcoVadis not only measures a company's sustainable practices, but also those of its suppliers. This promotes greater transparency in the supply chain and encourages companies to work with suppliers that also share sustainable values. By requiring their suppliers to adhere to certain standards, industrial companies like Arania can mitigate the risks related to unsustainable or irresponsible practices in their supply chain.
EcoVadis Medal: best practices and continuous improvement at Arania
An example of the good practices that have enabled Arania to achieve this EcoVadis silver certification is the management of energy resources. As we have already explained in our blog, Arania Group develops its production processes using renewable energies. This allows the corporation to provide detailed information to its customers, suppliers and partners on the origin of the energy it consumes and the environmental impact generated in the manufacturing cycle of its products.
The Ecovadis silver medal obtained by Arania not only validates its achievements, but also drives continuous improvement. This in-depth analysis allows Arania to identify areas for improvement and set achievable targets to progress in its sustainable development performance.
The future industry will be sustainable
he importance of preserving natural resources and caring for the environment has become more and more firmly anchored in corporate thinking. Sustainability goals, both at European and corporate level, are becoming progressively more ambitious. Since its creation in 1940, the Arania Group has always been committed to developing processes with a long-term perspective, both in terms of the management of its productive-technological processes and of our most important asset: our people and our environment.
Sustainable development objectives bring value to the industrial network and to society through our activities and our commitment to the environment, strengthening our reputation and relationships with partners, customers, suppliers and institutions.